What is SD-WAN?
SD-WAN is an evolutionary concept of the SDN-type networks. With this concept, the control layer in services is separated from the data layer. Through SD-WAN, remote locations are connected via VPN networks or a public Internet network, while data transmission uses overlay protocols.
Advice provided by our expert
1. The SD-WAN networks are designed for business environments that do not require the ZTP functionality.
2. Once the SD-WAN network is established, caution must be taken to ensure that all new applications on the network are routed properly and through an adequate connection.
3. Equally important is the quality of lower-lying connections, since SD-WAN networks cannot resolve the problem with poor connections.
4. SD-WAN allows data encryption incomparable with traditional firewalls. Alternatively, a virtualised firewall can be integrated into the SD-WAN service model via an orchestration platform.
Demonstration of a SD-WAN service use
A primary connection is established through a leased VPN connection with the selected ISP. It includes the SLA parameters, e.g. jitter, availability, bandwidth etc. The primary connection must be reliable and it must operate within the agreed parameters.
A redundant connection can be established via a public Internet network that does not provide the SLA-type services.
The SD-WAN service allows the critical type of an application to be routed through the primary connection, while the rest of the traffic that does not require certain specifics is routed through a redundant connection. This resolves the technical challenge of traffic sharing or speeds up the application performance. As a result, the lease of service with an operator is cheaper as there is no need for a 2 VPN connection with SLA parameters.
The management and control mechanisms make it easy to view and manage the SD-WAN connections.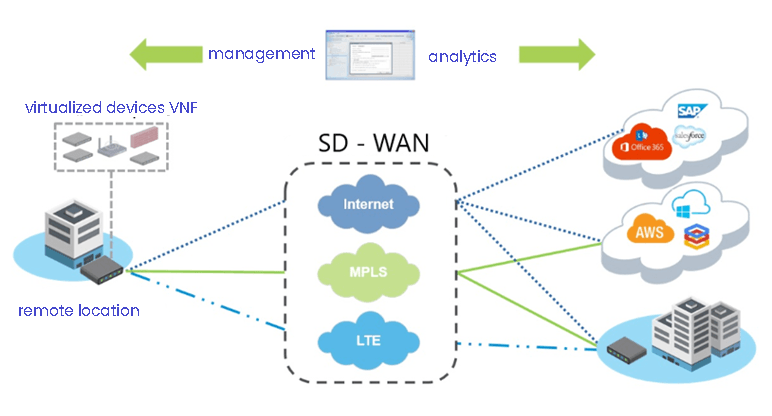 Is the SD-WAN network suitable for your environment?
Our team, who have long-standing experience in telecommunications, can help you resolve this dilemma.
Integrate the conventional networking features
The NFV features virtualise typical building blocks that make up the conventional network elements (VPN concentrators, firewalls, WAN path optimisers).
Together with the SD-WAN, the functions can be combined into a single device called the SD-WAN media gateway. The device can operate independently of virtualised network elements or autonomously.
How to get started with SD-WAN?
Test the solution through a pilot project that will reveal the benefits of this technology.
Why opt for our team?
Reasons to trust our network technology experts in setting up modern networks.
Our valued partners
We work with global leaders in specific technology segments.